All-purpose induction heating cookers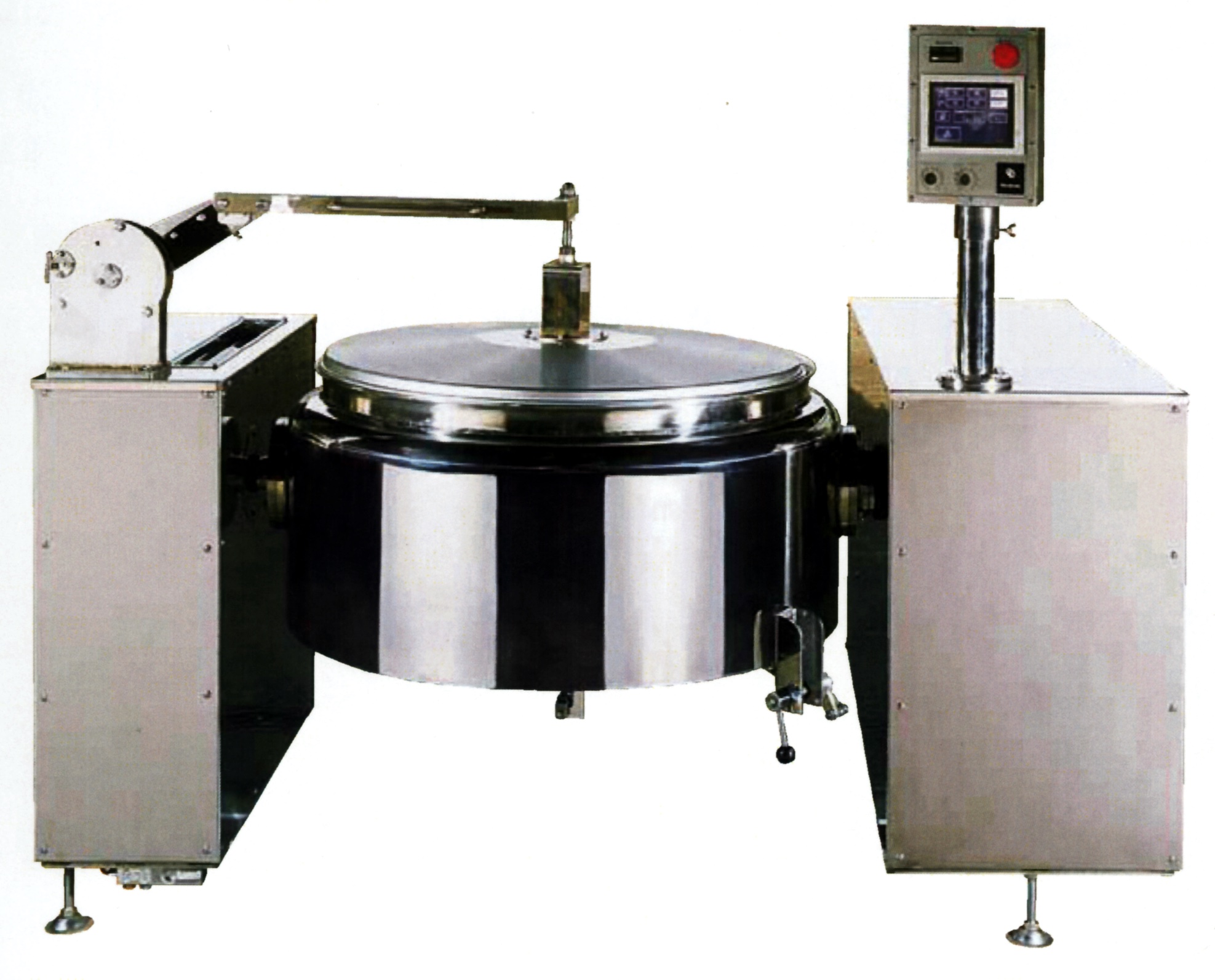 These all-purpose induction heating cookers achieve a uniform set temperature (up to 250°C) over the entire curved area inside the pot, while a top unit maintains a moderate temperature to protect workers from burns.
The structure prevents scorching during cooking, ideal for sauce manufacture. Unneeded exhaust heat, exhaust gas and exhaust steam have been eliminated.
Energy efficiency is extremely high, making it easy to maintain a workable kitchen environment for comfortable cooking. (Japanese government standards call for room temperature not to exceed 25°C and RH 80%.)
Other features
Easy operation
Heating settings can be freely specified and thermal power can be easily regulated.
Easy care
Stainless steel kettle provides high durability and makes routine care easy.
Use
Simmered items (roux, miso soup, stew, fish, vegetables, meat, other), stir-fried items (meat, vegetables, yakisoba, kinpira, other), warming (miso soup, stew, soups)
Option
Stirrer
Load cell
Draw cock drainage
Apron
Rear pushbutton unit for rear inverting
Rotary axis front movement: Raises cooking extraction height during pot rotation
Product Specifications
Equipment type
All-purpose induction heating cookers
Model
IMP-80N-KS
IMP-120N-KS
IMP-160N-KS
Rated voltage
Three-phase, 200 V
Power consumption(kW)
15
24
Kettle
SUS 304L (t = 4.0 mm) outer surface, with Fe thermal spraying
Power adjustment
Continuous adjustment possible (inverter)
Cooking temperature
Control up to 250°C (max.) at kettle bottom
Cooking types
Simmering, stir-frying, warming, other
Kettle rotation range
Front: 90°; Rear: 90°
Kettle rotation type
Motor-driven center rotation
Lid
Provided as standard feature (aluminum)
Platform
SUS 304, 2B finish
Operation panel
1-channel control format
2-channel control format
Load cell
Options
Stirrer
Options
Draw cock drainage
Options
Apron
Options