Induction heating stirrers
Boil, cook, stir-fry, fried in this one unit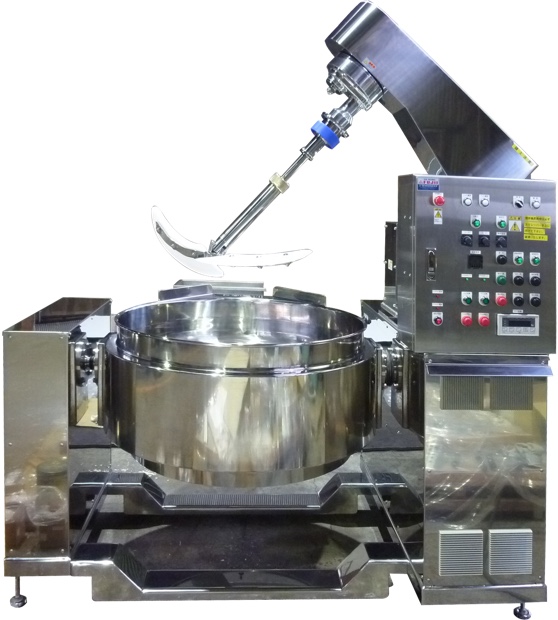 Induction heating stirrers that keep kitchens cool.
Pots are heated directly by induction heating, eliminating increases in room temperature from radiant heat.
Easy-to-use, economical
Easy-to-use rotary type (motor driven)
Thermal efficiency of 85%. Minimize energy loss in comparison to gas-type heating stirrers. Can be freely controlled to a wide range of cooking temperature curves.
Enable fine-tuned temperature control.
Lack of combustion eliminates the need for large intake/exhaust equipment.
Support large-volume, speedy cooking.
Provide heat quantity far surpassing rotary gas kettles.
Enable multipurpose cooking, eliminating the need to mount a soup kettle or tilting pan.
Use
Simmered items (roux, miso soup, stew, fish, vegetables, meat, other), stir-fried items (meat, vegetables, yakisoba, kinpira, other), warming (miso soup, stew, soups)
Option
touch panel
Product Specifications
Equipment type
All-purpose induction heating cookers
Model
IMP-80N-KS
IMP-120N-KS
IMP-160N-KS
Rated voltage
Three-phase, 200 V
Power consumption(kW)
15
24
Kettle
SUS 304L (t = 4.0 mm) outer surface, with Fe thermal spraying
Power adjustment
Continuous adjustment possible (inverter)
Cooking temperature
Control up to 250°C (max.) at kettle bottom
Cooking types
Simmering, stir-frying, warming, other
Kettle rotation range
Front: 90°; Rear: 90°
Kettle rotation type
Motor-driven center rotation
Lid
Provided as standard feature (aluminum)
Platform
SUS 304, 2B finish
Operation panel
1-channel control format
2-channel control format
Load cell
Options
Stirrer
Options
Draw cock drainage
Options
Apron
Options